About Phonak
Phonak are a Swiss company owned by the Sonova group. They also own hearing aid manufacturer, Unitron. They also own the majority shareholding in UK national company Boots hearing care services. Its likely if you've been to Boots for a hearing test, you've been recommended a Phonak product.
Phonak are one of, if not the largest hearing aid manufacturer in the world in terms of sales and international coverage. They have consistently made quality, reliable products and continue to be at the forefront of technology innovation for over 70 years. They make hearing aids in all shapes and sizes to suit all individual lifestyles and preferences. No matter what your situation is, there is a Phonak product for you.
Phonak have also become the leader in FM hearing systems. Radio FM systems for use in classrooms and RogerPen technology for children with medical related hearing problems, and those who are severe to profound in deafness, have really made Phonak the go to company.
Phonak were also the first to release 'made for all' technology in their latest Phonak Marvel products. This means that the user can stream audio via bluetooth without the need for an intermediary device. This has made a massive difference to Phonak and indeed the industry as 80% of the Smartphones used are Android and of those users that had hearing problems, they previously have had to settle for three-part streaming. Now they can stream the same as iOS users for the first time. A real game changer.
Phonak Model Range
Here we have some of the hearing aid models in the Phonak range that have made them a global brand
Virto Black
Launched in 2020 the new Phonak Marvel Virto Black. The first in the ear hearing aid to offer bluetooth connection to both iOS and Android smartphones. A new product to their already fantastic Marvel range, the Virto Black has clearer, richer sound than ever before and will also facilitate FM technology for up to 10 times better hearing. Difficulty understanding speech in noise is a thing of the past.
Audeo Marvel
Phonak's latest chip range which is the end product of years of hard work, innovation and a culmination of all the quality features in the previous generations of hearing aids. Simply put the sound quality is fantastic and has really made life easier for those who wear them. Listening effort is reduced and clarity is enhanced. They were also the first to facilitate binaural stream bluetooth devices directly into the hearing aids from any bluetooth smartphone. Gone are the days of needing and intermediary device. Phonak Marvel is here.
They are also fully Li-ion rechargeable and will last 24 hours from a full charge. They integrate with FM Phonak Roger technology for enhanced sound quality and have a mobile app that will allow the audiologist to perform remote fine tuning on the aids. Live transcriptions are also available from voice to text to help those who have a ore sever problem or wish to record the conversation for a later date.
Naida M
A superpower hearing aid released as part of the Marvel range of products. Quite simply a fantastic hearing aid for those with profound hearing loss. Using Phonaks patented Binaural VoiceStream technology its able to maximise clarity and increase understanding in complex listening environments, thus reducing listening effort for the user. It is also suitable for Roger FM products meaning that the user can combine both the quality sound from the Naida M and the Roger technology to improve understanding over a distanceand now available as a rechargeable unit.
Virto B Titanium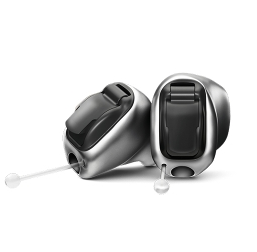 A hearing aid designed to last. The Phonak Virto B Titanium is made with medical grade titanium for maximum strength and durability. Its 15 times stronger but yet only half the thickness of a regular acrylic shell meaning you could get a really discreet fitting. Phonak used 3D printing technology to achieve this. Please bear in mind the hearing aid is NOT available in a wireless format due to the titanium shell not allowing wireless transmission through. We would recommend the Virto Black as an alternative.
Audeo B
The Phonak Audeo B was released in 2016. It was the first Li-ion device to the market and provided users with an alternative to interchangeable rechargeability or batteries. On a single charge Phonak claims to offer 24 hours of usage and up to 80 minutes of pure streaming.
The hearing aids were available in Recevier in Canal (RIC) format and comprised of quality features including, AutoSense and adaptive wind noise reduction. The Audeo B will automatically adjust and switch its settings per environment to maximise the sound quality as according to Phonak 90-95% of users prefer it to manual adjustment. All in all a good hearing aid from Phonak however we would reccommend you look at the Phonak Marvel as a more all round product.
Lyric
The Phonak Lyric is a one of a kind unique hearing device released by Phonak in 2010. Its a
device that is worn 24 hours a day 7 days a week and it has to be specially fitted by a professional. It is worn for around three months before been effectively disposed of. It is completely invisible and is also an analogue instrument meaning the battery life is extremely long (Good thing as you cant remove it to change).
The Lyric is fantastic for those people always on the go who dont want to fiddle around charging or changing batteries. Its also good for those people who value discretion highest on their list of priorities when it comes to wearing a hearing aid. It produces natural clear sound every minute of the day. A specialist alternative to the norm