Phonak Marvel 2.0 Audeo M70 Hearing Aid
'we will match or beat any genuine quote - please call us to discuss' Peter And Nigel UK-Hearing
It goes without saying- our service is safer than buying directly from the internet. We provide a face to face qualified, experienced dispenser to assess, advise, fit and provide all your after care and when you need to contact us you speak to a real-life person who will provide you with the correct advice and solutions.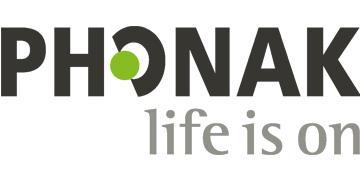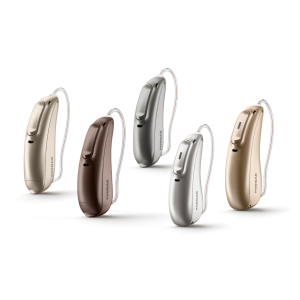 Enquire About The
Phonak&nbspMarvel 2.0 Audeo&nbspM70
Our Hearing Aid Prices Include:
Full Money Back 60 Day Guarantee
Fitting an Programming Services
Full Hearing Assessment by a Registered Audiologist
Phonak Marvel 2.0 Audeo M70 Hearing Aid Love at First Sound
The Phonak Marvel 2.0 Audeo M70 Hearing Aid is the advanced level technology produced by Swiss company Phonak. It promises a clear, rich sound expereince, focusing on all the sounds you want to hear and filtering out those you dont. Using the very latest M chip the Marvel hearing aids will fully integrate bluetooth technology for both iOS and Android smartphones (Android version 10 and above) and Phonaks Roger technology. It won the CES innovation awards for its capabilities. This multifunctional hearing aid really is Phonaks best product yet.
Features of the Product
In this section we will cover what makes the Marvel product tick and what technology is within it that helps you hear clear, crisp and natural.
AutoSense OS 3.0
Taken directly from Phonak this is what they say about AutoSense technology:
AutoSense OS is designed with your everyday listening situations in mind, seamlessly adapting to sounds wherever you are. It senses your surroundings and adjusts your hearing aids every step of the way. It analyzes the sounds around you every 0.4 seconds and can identify whether you're in a noisy restaurant, car, concert hall or at home. It then draws upon multiple features blending them to create over 200 distinct settings to precisely match your exact sound environment. Without having to adjust your hearing aids manually, you can enjoy unmatched hearing performance…wherever life takes you.
By doing this AutoSense 3.0 will improve speech understanding in a noisy environment by up to 60% vs not wearing hearing aids. By zooming in on a single voice using the 'Ultrazoom' facility the AutoSense 3.0 is able to pick up the voice easier in the most challenging of environments.
By using its automatic facilites to detect the environment Phonak have managed to improve general speech understaidn by 20% compared to their previous technology Phonak Belong (B)
There is a 37% reduction of listening effort within the car compared to Phonaks previous Belong technology
Soft speech understanding is also further improved by up to 10% using Marvels Soft Speech Boost which is fully automatic.
Rechargeable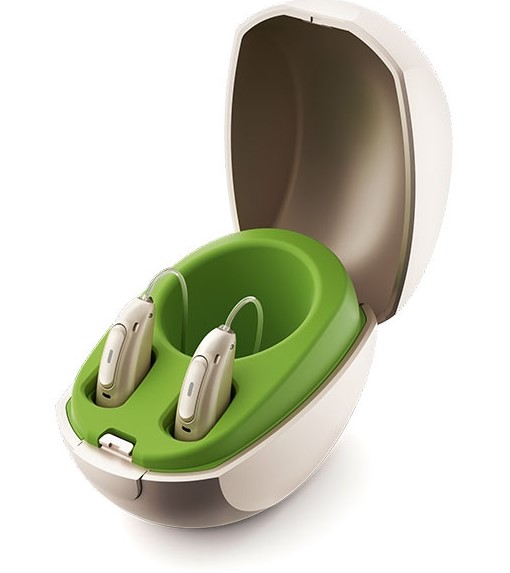 Phonak Marvel offers a fully Li-ion rechargeable solution that Phonak will claim offers a full day's usage of a single full charge (streaming via bluetooth will reduce this) It uses a small portable charging solution that you put the hearing aids in to charge meaning you never are left in a situation where you need to hear and your batteries have gone dead. The charging times are as follows:
3 Hours (Full Charge)- 24 hours Phonak claim you will get (less if you Bluetooth stream)
1.5 Hours- 12 -15 hours usage (less if you Bluetooth Stream)
0.5 Hours- 3-5 hours usage (less if you Bluetooth stream)
Battery options are still available in the Marvel Range for the Audeo M90 Naida M90 Virto Black 90 and Virto M90 hearing aid systems.
Streaming Facilities
Phonak have been the front runners in the connectivity aspect of hearing throughout the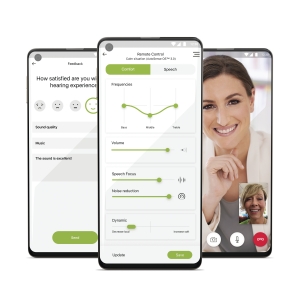 world and the Marvel is no different. Its the first hearing aid of its type to full connect with both iOS and Android smartphones (you must have Android version 10 and above). Using bluetooth technology you can seamlessley stream phonecalls, music, audiobooks etc, anything that uses a sound source can be streamed. The Marvel also acts as a microphone when used for phonecalls, meaning the user no longer has to place to phone to their ear they can talk directly to the phone and the caller will hear them clearly and naturally.
Phonak also have an App in which you can adjust and control your Marvel hearing aids from anywhere in the world. Personalise your hearing aids with Phonaks most advanced remote system. The App is call myPhonak and can be downloaded in the iOS App store and the Google Playstore.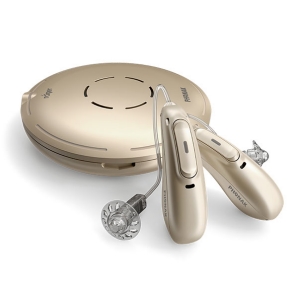 Phonak Roger
Taken directly from Phonak themselves they say this about Phonak Roger:
'Roger is the optimal solution to improve speech understanding in loud noise and over distance. It now streams directly to your Marvel hearing aids.'
31% of hearing wearers still report they have some difficulties listening in a noisy environment. This is just with Phoank hearing aids. Roger sets out to change that.
'Roger technology continuously measures the surrounding noise level and adapts the microphone's volume automatically. If the noise level increases, Roger adapts accordingly, keeping the speaker´s voice above the background noise. Hearing aid users understand almost 10 times better with Roger technology in noise and over distance than people with normal hearing.'
'MultiBeam Technology enables you to experience exceptional speech understanding in group conversations. By utilizing multiple microphones in six directions, speech from 360 degrees is calculated and compared to select automatically the direction with the best clarity. This allows you to hear regardless of where a voice is coming from. Speech understanding improves up to 61% in a group conversation in loud noise'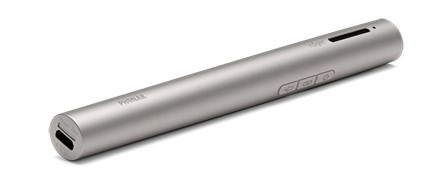 Phonak Roger is available in three styles: Roger Pen, Roger Table Mic, Roger Select 2. All of these stream wirelessly to Phonak Marvel.
Build Quality
On all the Marvel behind the ear (BTE) and receiver in canal (RIC) products Phonak have used Nano Coating which means the hearing aids are IP68 water resistance and dust tight. IP68 indicates that the hearing aid is water resistant and dust tight.
'It survived continuous immersion in 1 meter of water for 60 minutes and 8 hours in a dust chamber as per the IEC60529 standard. No traces of dust were evident within the housing.' Phonak testing of the Marvel behind the ear products.
The custom hearing aids also have a nano coating but because of the style of the product they are not quite as durable as their behind the ear counterparts. The shell itself however is water resistant and dust resistant.
Phonak have also provided a Combi charging case which is a hearing aid drying unit as well as a rechareable soloution. This is available for all Marvel products but doesnt come as standard with the hearing aids.
Available Hearing Aid Styles/Colours
The Phonak Marvel Range currently has six different products in their range:
Audeo Marvel M R/RT- Rechargeable reciever in canal product.
Audeo Marvel M- Battery operated receiver in canal product
Naida Marvel M R/RT- Rechargeable behind the ear product
Naida Marvel M- Battery operated behind the ear product
Virto Black M- Battery operated custom in the ear product with full connectivity to Roger
Virto M- Battery operated complete in canal and invisible in canal product.
The Marvel range comes in a wide selection of colours. Please contact us for more information on this.
All the Marvel products can be wireless to support Phoank wireless accessories such as a remote control, microphone set etc.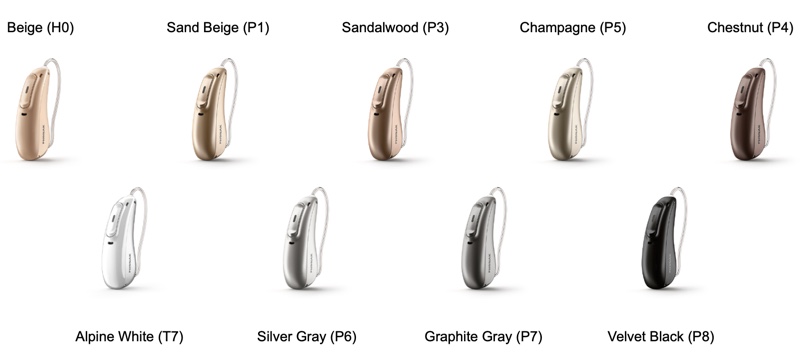 UK Hearing's Phonak Marvel M70 Star Rating
Wind Noise Reduction - ****
Natural Sound Experience - ****
Improved Speech Understanding- ****
Automatic Sound Adjustment - ****