Oticon Opn S1 R Hearing Aid
'we will match or beat any genuine quote - please call us to discuss' Peter And Nigel UK-Hearing
It goes without saying- our service is safer than buying directly from the internet. We provide a face to face qualified, experienced dispenser to assess, advise, fit and provide all your after care and when you need to contact us you speak to a real-life person who will provide you with the correct advice and solutions.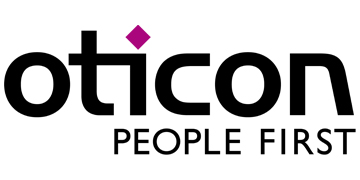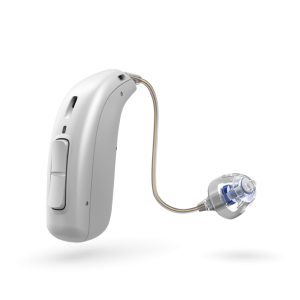 Enquire About The
Oticon&nbspOpn&nbspS1 / S1 R
Our Hearing Aid Prices Include:
Full Money Back 60 Day Guarantee
Fitting an Programming Services
Full Hearing Assessment by a Registered Audiologist
Oticon Opn S - Enjoy speech understanding on par with normal hearing
The Opn S1/R is the premium product in the latest range of products from Danish company Oticon. This is a new product based on Oticons already fanstastic, previous range of products, however, Oticon have updated the chip from the Velox Chip to the Velox S which is faster and more responsive than the previous Opn range. They have managed to improve on the previous Opn technology by 15% in the Opn S range with the S1 been the best of the three technology levels available. With enhanced an improved OpenSound Navigator and feedback system the Opn S range are fantastic.
Features of the Product
In this section we will go over some of the features within the Opn S products that make them so good for users.
OpenSound Navigator
Taken directly from Oticon this is what they had to say about OpenSound Navigator: 'Oticon's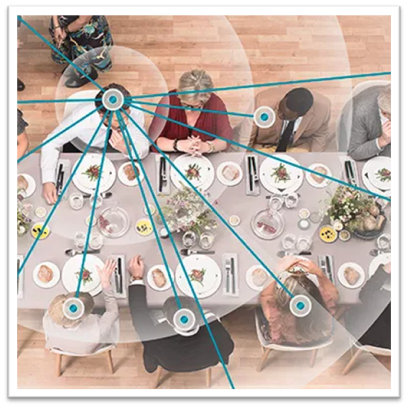 OpenSound Navigator lets people with hearing loss enjoy a full, balanced soundscape across all listening environments. In a split second, it makes it easier for the brain to decide who and what to listen to, and to switch attention when needed'
It works in three simple steps to give the user maximum assistance:
Step 1 - It scans the 360 degree environment at more than 100 times per second to identify more accurately the differences between noise and speech.
Step 2 - It then balances the surrounding sounds to leave the main speech or focus sound clear whilst the background noise is audible but not distracting.
Step 3 - It cleans excessive background noise within the 360 degree environment so the user can focus more prominantly on the sounds they wish to hear. Background noise becomes more antural witthing a speech orientated environment.
Feedback Manager
The Opn S range has an improved feedback cancellation manager meaning that those annoying and uncomfortable whistles your previous hearing aids made, are now a thing of the past. Oticons new feedback manager is faster and more responsive to even the harshest of situations compared to their previous Opn generation of products.
Rechargeablity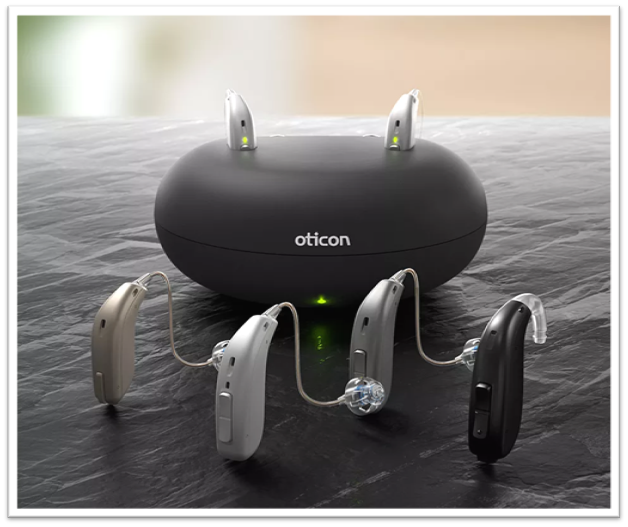 The new Opn S range of hearing aids come with an optional rechargeable facilit. This uses their innovative, latest Li-ion technology is a stylish protable charger. Oticon have created a sturdy robust charger as well as keeping it relatively small and neat. The quality however is fantastic with Oticon claiming the user will receive a full days usage (including bluetooth streaming) of a single full charge.
The charging times are as follows:
3 Hours - Will give the user a full day of use from the products (including bluetooth streaming)
1.5 Hours - Will give the user around 12-13 hours of usage (including bluetooth streaming)
30 Minutes - Will give the user around 6 hours of usage (including bluetooth streaming)
For more information on the rechargeablilty aspect please visit this link: https://www.oticon.co.uk/hearing-aid-users/hearing-aids/accessories/rechargeable-hearing-aids
Streaming Facilites & Connectivity
The Opn S uses low energy 2.4 GHz bluetooth connectivity. They are wireless and will also work with Oticons range of accessories such as:
- TV Adaptor 3 (allows direct connectivity to the TV)
- Remote Control 3 (for volume and program adjustment)
- Oticon ON app (Smartphone app for a wide range of hearing aid adjustments)
Using a smartphone, whether that be iOS or Android (to use android you will need an Oticon Connectclip) the user is able to maximses and discreetly control their hearing aids.
Please visit this link to see if your mobile phone is compatible: https://www.oticon.co.uk/hearing-aid-users/support/faq/compatibility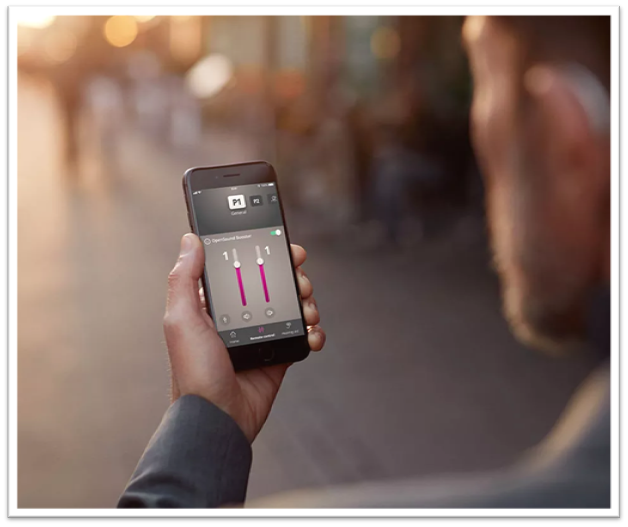 Oticon ON App
The updated Oticon ON app gives the user even more flexibilty in been able to control their hearing aids using their iOS or Android phone. It contains several facilites such as: Remote control volume adjustment, Program adjustment, Tinnitus Sound Support, Find your hearing aids as well as many more.
Oticon have also also introduced the HearingFitness app. For more information on this please visit this link: https://www.oticon.co.uk/hearing-aid-users/hearing-aids/accessories/hearing-fitness.
Build Quality
The Opn S range has the same quality build as their predecessor the Oticon Opn. They are nano- coated for moisture and dust protection (ip68). The receivers and filters also are nona coated to prevent, to the best of thier capabilities, any wax or moisture damage.
Hearing Aid Styles/Colours
Oticon Opn S range comes in a few different styles. Please see below for the list:
miniRITE - Oticon's smallest version of the Opn S which takes a size 312 battery
miniRITE T - A slightly larger version of the above as it contains a telecoil.
miniRITE R- Again slightly bigger than the two above as it contains the Li-ion rechargeability and a telecoil.
BTE PP - The largest hearing aid of the lot, specially designed for those with a severe or profound hearing loss.
The Opn S comes in a range of different colours. For more info on this please visit this link: https://www.oticon.co.uk/hearing-aid-users/hearing-aids/products/overview/opn-s-styles

UK Hearing's Oticon Opn S1 Technology Star Rating
Wind Noise Reduction - *****
Natural Sound Experience - *****
Improved Speech Understanding - *****
Automatic Sound Adjustment - *****